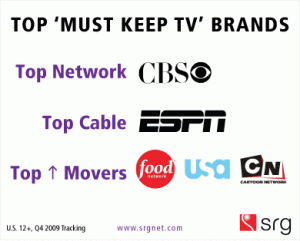 CBS is the new top 'must keep TV' brand in America (chosen by 49%), narrowly beating ABC (48%), which led the pack as the top brand for 2 years, according to SRG's third annual syndicated TV brand survey. FOX is now in the #3 spot (44%), followed by NBC (42%). NBC was in the #3 position last year.
NBC's struggles in 2009 are also echoed in the "Must Keep TV" survey results—in Q4 2007, 50% of viewers selected NBC as one of their must keep brands—in Q4 2009, this is down by 8-points to 42%. Each percentage point represents just over 1 million TV households.
This year ESPN, Discovery, Food, USA, HBO, History rounded out the top 10 list.
Some key trends on an overall basis (12+):
Food Network was one of the two top movers in rankings, up 3 spots from #10 last year to #7 this year. USA also moved up three spots from #11 to #8.
SyFy dropped from #8 last year to #11; History also dropped from #7 to #10.
The Cartoon Network, A&E, Animal Planet, TBS, FX, HGTV and Showtime all recorded year-over-year gains.
CNN recorded the biggest decline of any brand on the list overall, dropping from #14 to #29
In the important advertiser demographic of Adults 18-49:
ABC edged out CBS for the #1 position, followed by FOX and NBC. ESPN, Discovery, Food Network, HBO, USA and Comedy Central rounded out the top 10.
Food Network (#7, up from #14), CW, FX, Animal Planet, HGTV and National Geographic had momentum in A18-49. Fuelled by shows like Vampire Diaries, Gossip Girl and Melrose Place, CW had its best showing in this demo, coming in at #16 (up 5 spots from #21 last year).
Other highlights…
Top kids' brands according to moms of kids 12 or under were: Nickelodeon, Disney, ABC Family and The Cartoon Network.
Lifetime improved its standing from #8 to #7 among Women 12+, Hallmark moved up 6 spots to #23. Oxygen improved from #52 to #43.
The four broadcast networks continue to dominate our 'must keep TV' rankings for the third year in a row.

77% of all households identify at least one of the four major networks as a 'must keep TV' brand and 54% identify at least two—clearly, broadcast networks are still very important to viewers.
This said, there is erosion in these numbers: percentage identifying one of the four as 'must keep TV' is down from 83% in Q4 07 and 81% in Q4 08 to 77% in Q4 09. Similarly, percentage identifying at least two is down from 60% in Q4 07 to 54% now.
These results are based on 'Must Keep TV' Tracking—an independent syndicated annual TV brand tracking survey conducted by Solutions Research Group (SRG) among a representative sample of 1,200 American consumers.
This is the 3rd annual edition of the survey—each year the survey is conducted in Q4 (November/December).Sample design is balanced by geography, gender and ethnicity, including African-American and English-speaking Hispanics according to known universe parameters. Respondents are shown a list of 70 selected network/cable brands and are asked to identify a shortlist that would be on their 'must keep TV' list if they could only keep a limited set of channels.
To maintain an unbiased perspective, SRG funds its own syndicated research. Contact Ross Walton (rwalton@srgnet.com) for more information.