With laptops breaking the 50% mark among online Canadians and smartphones passing the 20% mark among wireless subscribers, the mobile future is beginning to take shape, according to SRG's Q1 2009 edition of Digital Life Canada (formerly Fast Forward Quarterly).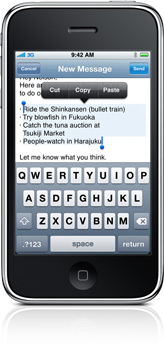 When a consumer replaces an old computer, the chances are that replacement is now a laptop given favourable pricing and the sheer convenience of laptops or netbooks with wireless Internet. And, increased competition in the smartphone category and iPhone's visibility, including today's announcement of the 3GS model, are helping drive smartphone adoption beyond the business world.
Among other headlines of the Q1 research:
First thing in the morning, two-in-three are online—messaging, social networking—as broadband and social media become routine. Canadian consumers are doing more of everything online—online video and social media trendlines are up, so are content downloads and online shopping. And there is even a slight bump in use of adult entertainment sites in the past few years—some 23% of those 18 and older say they visited an 'adult entertainment' website in the past month, up from 20% in late 2006.
Over half (58%) say the way they watch TV is different now than 5 years ago. Consumers talk about high definition screens, PVRs and online as the major change drivers (see this week's CBC feature on TV). Many also talk about how they now watch with their laptops. And more often than not, a major change in the way a consumer watches TV is due to a change in lifestage, for example, getting married or having children.
The Q1 Digital Life Canada research had a special focus on the impact of the recession. We found that after a sharp decline in Q4 2008, consumer momentum seems to have stabilized but while 48% of Canadians report some direct impact from the recession, 74% already changed their spending patterns. Those who made major cutbacks made them across the board and are focusing spending on needs rather than wants. Simply put, Canadian consumers are more conscious of how they spend their money.
There is detailed analysis of the impact of the recession on communications and entertainment categories ranging from PCs, DVDs and magazines to wireless and cable in the Q1 Digital Life Canada report. The research is  based on 1,000 interviews with Canadians 12 and older at the end of March 2009. For more information, you can email Ross Walton at rwalton@srgnet.com