OVER HALF OF American women say they are game-players, in one form or another. And their favorite console game is Guitar Hero.
While their participation in console gaming (Wii, PS2, XBox and handhelds) remained steady at just over one-third (35%), as compared to a year ago, 54% now report playing PC/web games.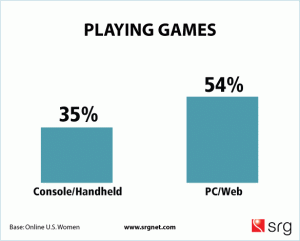 The information comes from SRG's Women and Digital Life study, which is based on in-depth interviews with 2,000 women aged 12 and older.
"Gaming is one of the most dynamic forms of entertainment, perhaps its no wonder that in our current economic climate, women are looking to escape digitally," said Donna Hall, co-author of the study.
One-in-three Women into Console Games
Gaming with consoles and handhelds shows considerable popularity with younger women (62% play vs. 35% average) and moms with kids under 12 (45%). But even among women 40+, one-in-five plays console or handheld games.
While the Sony PlayStation 2 maintains the lead in terms of console most women play with at least occasionally (49%), Nintendo's Wii is gaining among American women. And actually, console gamers identified the Wii as their favourite (26%) followed by the PS2 (23%), the Nintendo DS handheld (11%) and then Xbox 360 (9%). Interestingly, iPod Touch and iPhone are now in the top 8 for women as a gaming platform.
Among the games themselves, Guitar Hero was the most popular, followed by the Mario series and Wii Fit.
"Another reason for the increasing popularity of gaming among moms is an opportunity to spend time with the kids. Guitar Hero provides a nostalgic music experience for moms while actively engaging a child on their own turf. No wonder it is the most popular game," said Donna Hall.
87% of moms play video games with their kids at least some of the time and 57% play at least once weekly.
The research also found that Hispanic women are big gamers with both consoles and handhelds (46% play, vs. 35% average). African American women were also above-average (41%). Interestingly, both of these demographic groups are also younger than average—according to the U.S. Census Bureau, the median age of Hispanic women is 27 compared to 37 for all U.S. women. And the median age of African-American women is 32.
Over Half Play Casual PC/Web Games
54% of women play web-based or PC games regularly—among those 12-24, 62% play and among moms, 61%. Card games are very popular, as are puzzles and various version of Solitaire.
For web-based games, POGO was the top web game destination, the portals Yahoo! and MSN ranked in 2nd and 3rd positions. And when moms surf with kids to play, their top destinations are Disney, Webkinz, Pogo, PBS Kids or Nick Jr.
And Still More Games on the Wireless Device…
27% of women played a game on their cellular phone in the past month. Moms were a little more active (30%). Interestingly over half of moms (55%) share their wireless device with their kids for texting or game
Technical:  this is the third in a series of releases from the Women & Digital Life study which is based on over 2,000 in-depth interviews and explores how women navigate in the age of broadband, mobile and social media. This release contains information from the Gaming chapter of the study. Women & Digital Life is an independent syndicated study conducted by SRG (Solutions Research Group). The fieldwork for this study was completed in December 2008 among a representative sample of 2,000 online American women consumers 12+. The sample captures all major population segments, e.g., parents with preschool kids, tweens or teens, young women, and empty nesters. Sample design included an oversample of African-American and English-speaking Hispanic women. Where applicable, the results are compared to a similar study undertaken by SRG in 2007 among 1,508 women, plus focus groups conducted over a 2-year period.
To maintain an unbiased perspective, Solutions Research Group funds its own syndicated research. You can find out more on the reports here or keep up with Women & Digital Life on Twitter.