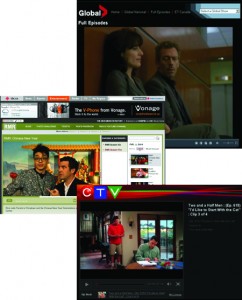 Online TV is on the rise in Canada as major networks such as CTV, Global and CBC stream more of their top shows. This is according to SRG's Q4 2008 Fast Forward Quarterly Research.
41% of online Canadians report having watched a TV show via the Internet (streaming or P2P) on their PC at some point in the past. About half of this audience are regular online viewers (i.e., watch at least once weekly).
Short video viewing is becoming nearly universal, with over 70% watching short clips or streaming content on a regular basis, double the rate of Q4 2006 viewing levels. Aside from YouTube, top-of-mind destinations for video content in Canada include Google, Facebook, CTV, Yahoo!, MSN, Global, MySpace and CBC. This suggests that boundaries between TV/Video brands, aggregators and social brands – where people post links to video content – are blurring.
While the majority of visits to major network sites in Canada are still for news and schedule information, we are seeing the beginning of more engagement with online TV shows being streamed on these sites.
13% of visitors to globaltv.com said their main reason to visit was to watch a show online during the survey period, highest of the main networks. 9% of ctv.ca and 6% cbc.ca users said they visited those sites primarily to watch a TV show online last month.
In the U.S. where networks have been streaming for a number of years, a higher percentage of web visits are to view a specific show (e.g., 31% of visits to abc.com – the U.S. market leader – are to view a specific show).
With greater availability of streaming, online Canadians are watching shows as diverse as House and Heroes to Grey's Anatomy and Coronation Street online. And 3-in-5 online Canadians agree with the statement "soon all TV shows will be available for viewing on the Internet."
Technical:The results are based on a survey of 1,000 online Canadians aged 12 and older in November 2008. Where applicable, the results are compared to similar surveys in previous quarters/years. For more information you can email Ross at rwalton@srgnet.com