Sports are a major part of Canadian youth culture, with participation levels outstripping other activities such as music, arts, crafts, languages, and volunteering. The pandemic caused significant disruptions to youth sports, but according to our recent research, a strong rebound is underway. SRG interviewed nearly 3,000 Canadian families with kids in the 3-7, 8-12 and 13-17 age groups in early 2023 in all regions of Canada in English and French in partnership with 55Rush – the results of this ground-breaking research are published in a comprehensive report called Canadian Youth Sports Report 2023.
SRG is estimating that over 4 million Canadian youth participate in one or more organized sports and activities, representing a participation rate of 67% among the total population of 6.1 million youth in the 3-17 age group.
Soccer takes the lead as the top sport for organized participation
Among the multitude of organized sports and activities available to Canadian youth, soccer has emerged as the most popular choice: sixteen percent (16%) of all youth between the ages of 3 and 17 participate in organized soccer in Canada, making it a passion for an estimated 1 million Canadian youth. SRG's 2023 data suggest an increase over time in organized participation in three major team sports in particular: soccer, basketball and volleyball.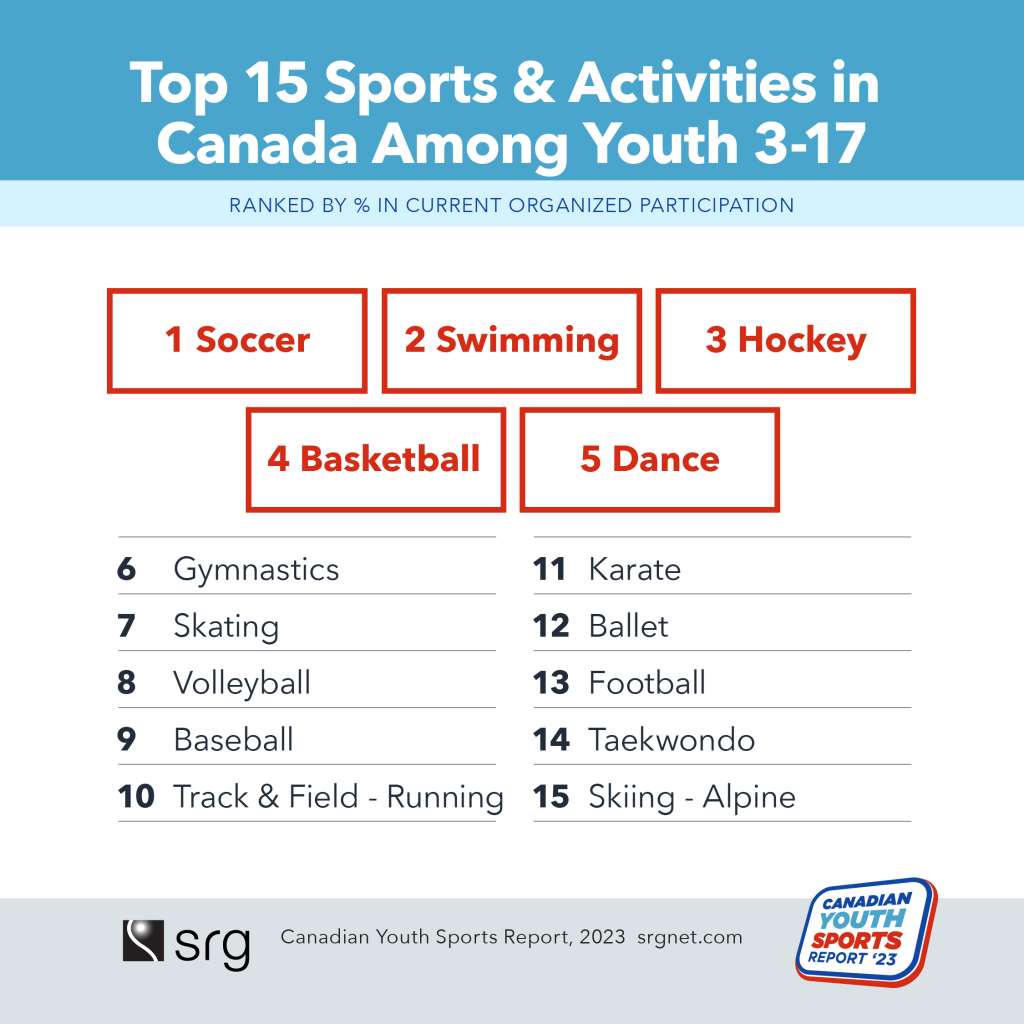 Movement disciplines are very popular among girls
Movement disciplines such as dance, ballet and gymnastics are extremely popular among girls. One-in-four girls (25%) in the broad 3-17 age group participate in these three disciplines, ahead of water sports (17%) or winter sports (16%).
New Canadian youth also exhibit distinct preferences. Hockey, which ranks third among all Canadian youth, drops to ninth place among this group. New Canadian youth show a preference for soccer, swimming, and basketball as their top three sports of choice. Canadian Youth Sports Report 2023 sample is inclusive and large enough in size to allow for an examination of preferences among youth from diverse backgrounds and communities, including those with Indigenous backgrounds. The findings reveal that hockey is the top organized sport among youth with Indigenous backgrounds, followed by swimming, soccer, and basketball. Among Black Canadian youth, the top sports are soccer and basketball. Among non-binary youth, the top two sports were swimming and soccer.
School is key entry point for sports among new Canadian youth
Of the youth engaged in organized activities and sports, 63% participate in their chosen sport two or more times per week.
There are various influences for youth sport participation, with over half indicating a desire to "try the sport." Parents served as an influence for 34%, while school played a role for 17% of participants. School is significantly more influential for starting organized sports among New Canadian youth, with 37% in this group citing school as a point of entry to their sport and an influence.
Family expenditures on youth sports varies widely by age and sport
Under half annual spending on youth sports (44%) goes to lesson fees or team dues, followed by travel/transportation (30%), and equipment, clothing and shoes account for the balance of spending. There is a wide range of sports-related expenditure based on children's ages and sports: families with teens 13-17 report total spending on organized and casual sports and activities to be over $2,500 per year per child, about twice the amount spent on average for children in the 3-7 age bracket ($1,227). Average spending on youth sports is about twice the average for families with children in equestrian, hockey or skiing (ranging from $3,600 to $4,350) while martial arts and soccer are among the most affordable annually (just over $1,400 per child per year). When it comes to equipment, clothing and shoes, Sport Chek is the number one brand in Canada, followed by Sports Experts, Canadian Tire, Walmart and Play it Again Sports.
Finances, youth mental health, and education are top parental concerns
We explored parents' main concerns to frame our research findings. The top themes that emerged were financial challenges, the pandemic's impact on youth mental health, and concerns about education. Financial worries were mentioned by 58% of parents. They cited the high cost of living, raising families, and food affordability, along with the pandemic's effects on children's mental health, safety, and bullying. Parents also expressed concerns about their children's education, including its affordability, and the impact of social media on mental health and social development.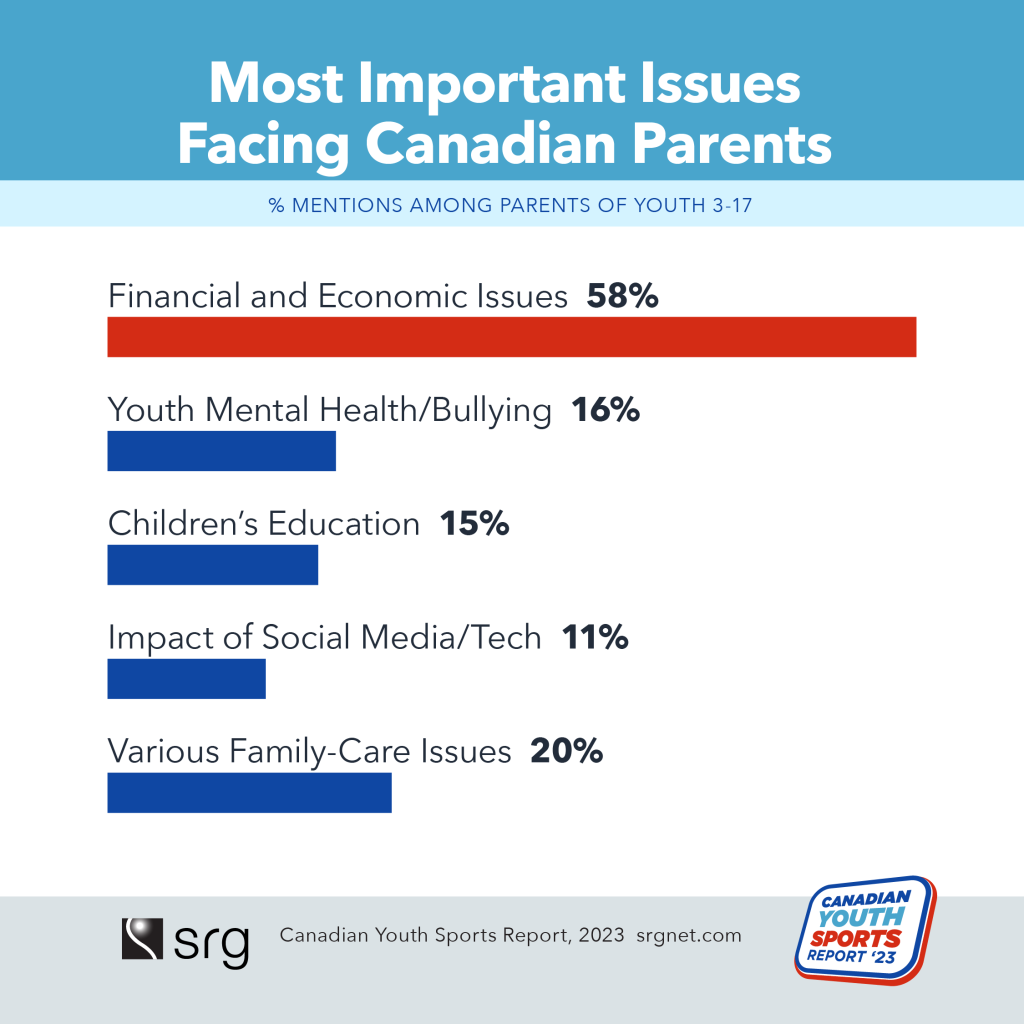 Among other headlines of the study…
Youth sports sponsors are crucial in the face of rising costs – local businesses, as opposed to national brands, shoulder majority of support at the grassroots level
NHL and NBA lead as most popular pro leagues – 59% follow women's sports at least some of the time
Two-in-five parents have volunteered in some capacity
Social media plays a central role in how parents discover sports and activities for their children
About the Study
Canadian Youth Sports Report 2023 provides a comprehensive overview of 40+ sports and popular physical activities for the 3-17 age group representing a population of 6.1 million. The data comes from 2,996 detailed interviews with parents who had at least one child in the 3-17 age group in the home in January 2023. The sample is nationally representative and the survey was conducted in English and French. The study sample is inclusive and large enough to permit for analysis of a number of diverse groups and communities including youth with Indigenous backgrounds, Black Canadian youth, Chinese-Canadian youth, South Asian Canadian youth and Filipino-Canadian youth. The sample is also inclusive of LGBTQ2+ parents, non-binary youth, as well as parents with disabilities. Canadian Youth Sports Report 2023 is an independent syndicated study published by Solutions Research Group (SRG) and the research was conducted in partnership with 55Rush, Canada's leading expert in building online communities.
For more information on how to purchase the report or receive a complimentary full summary, please contact Robin Dryburgh, robin@srgnet.com