While ABC managed to retain the top 'must keep TV' channel title in America, beating Netflix by a hair in 2019, the big three streamers all improved their rankings and placed in the top 10, according to the results of the 12th annual "Must Keep TV Report," from Solutions Research Group (SRG).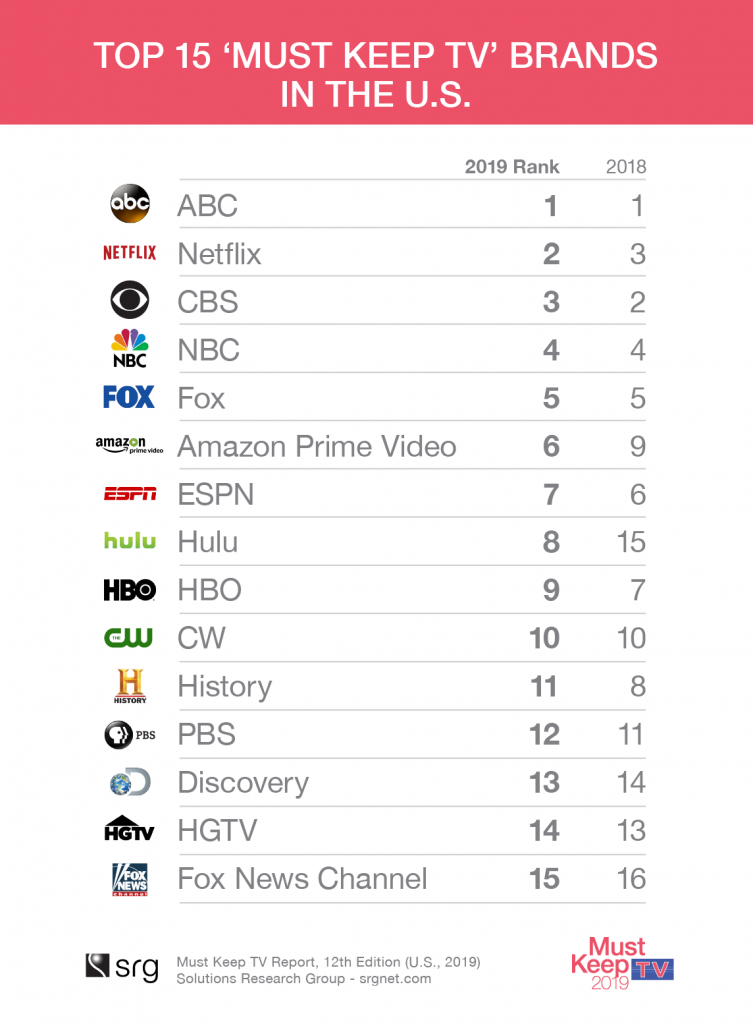 In addition to Netflix moving up one spot to #2 this year, Amazon's Prime Video jumped three spots to land at #6 this year, while Hulu came in at #8, up seven spots from last year.
ESPN was again the top cable brand in the overall top 10 (#7 overall, #1 cable); HBO slipped to the #9 spot and CW maintained its #10 ranking for the fourth year in a row. Exiting the Top 10 this year was History, slipping to #11.
ON THE RISE: FOOD, ANIMAL PLANET, DISNEY, HALLMARK, COOKING AND BET
On a total 12+ audience basis, TV brands with positive momentum this year include Food Network (second best showing at #16 since 2014), Animal Planet (now ranked #19, up from #31 the year before), Disney (#23), Hallmark Channel (#25, best ever ranking in over a decade), Cooking Channel (now ranked #34, up a remarkable twenty spots since 2016) and BET (highest rank in over a decade of tracking).
AMC IS WALKING … IN THE WRONG DIRECTION
Brands losing steam this year in the full 12+ demo include AMC (now #18, down 6 spots from 2018), USA (now ranked #27, down three spots), TNT (#28 down 5 spots from year previous) as well as FX and TBS both of which are no longer in the Top 30.
In the case of AMC, the brand is now ranked #14 among young adults 18-34, down eight spots from its peak of #6 in 2016. It also lost steam among men 18-49, dropping out of the top 10 for the first time since 2015.
FOR THE FIRST TIME EVER, NETFLIX TOPS THE RANKINGS AMONG WOMEN 25-54
Netflix topped the W25-54 demo, followed by ABC, CBS, NBC and FOX. Prime Video and Hulu are in the #6 and #7 positions respectively – these two have both improved over last year's rankings. Rounding out the Top 10 are HBO, HGTV and CW in this demo.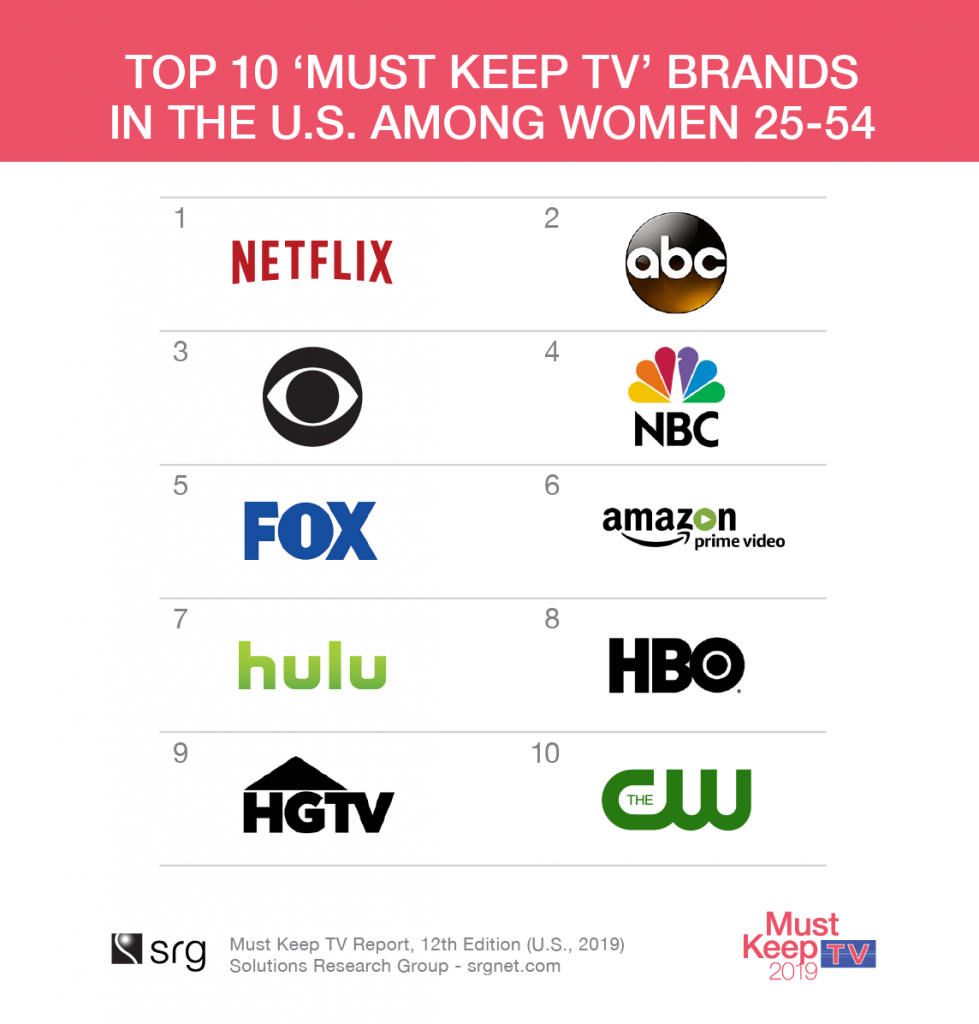 Notable brands with momentum among women 25-54 this year include Lifetime (now ranked #13, up nine positions from last year), Hallmark (#17, up six spots from last year and the brand's best showing in 10+ years) and Nickelodeon (#18, up fourteen spots)
NETWORKS' BRAND EQUITY STILL STRONG BUT IN DECLINE
In 2019, on a total 12+ population basis, 64% of those interviewed included at least one of the big four networks (one or more of ABC, CBS, NBC, FOX) on their 'must keep' channel list. While that is still two-thirds majority, it represents a 14-point drop of 78% in 2014 and a 19-point decline from when tracking first started in 2007 when 83% included at least one network on their 'must keep' lists.
AMERICAN HOUSEHOLDS HAVE FEWER TVs
In 2019, 49% U.S. households reported owning three or more TV sets. In 2013, the comparable number was 56% and, in 2007, when the 'Must Keep TV' survey was first undertaken, two-thirds (65%) had three or more TV sets in the house.
Technical: 'Must Keep TV' is an independent syndicated brand tracking survey conducted by Solutions Research Group (SRG) among a representative sample of American consumers. This is the 12th edition of the survey since 2007. The questions have been fielded and presented in a consistent manner each year. The 2019 research is based on online interviews with 1,524 American consumers aged 12 and older and conducted in April 2019 – the sample captures and represents all major population segments. For more information, please contact Robin Dryburgh (robin@srgnet.com)